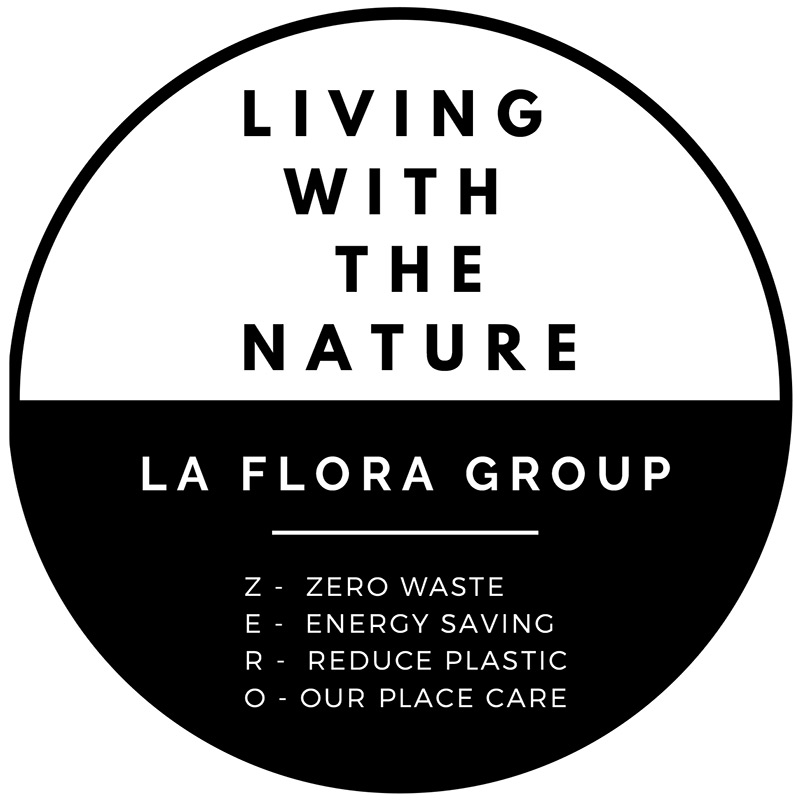 As a promise of continued enhancement on guest experience, La Flora group is taking sustainable tourism into consideration and listen to our locality.
We proudly introduce "Living with the nature" which conceptualize and implement a promise of eco-consciousness with integration of following idea of ZERO project.

Z - ZERO WASTE
• 100% Waste sorting : Placing recycle bin in all hotel public area for sorting and proceed to segregation by element for recycle and eliminating waste

E - ENERGY SAVING
• LED light : Last longer and consume less energy by replacing light bulbs and system in guest room, outlet and public area with LED light.
• Radiant Floor cooling : Instead of airconditioner, cooling system at Lobby is upgraded to increase thermal comfort of our guest along with reducing energy consumption.
• Renewable energy : a step up of clean energy future, Solar cell lamps are implemented to lighten up hotel walkway

R - REDUCE PLASTIC
Guest room : Guest's sleep and in-room experience are minimized usage of plastic by replacement of following items
• Glass bottle of drinking water
• Biodegradable plastic bottle for toiletries
• In-room pencil and wooden designed info board
• Reusable laundry bag
• Bio degradable bin bag
• Reusable tote bag for carry off and Eco shopping
Restaurant and Shop : An idea of striving to dine and shop without Plastic foot print are listed as below
• No straw policy (Paper straw is on request)
• Stirrer is made by wood
• Drinking water in glass bottle
• Take away food is contained by paperbox
• Replace plastic bag to paper bag in shop
Public area : Water dispensers are arranged to refill drinking water during guest stay. While our stainless-steels water bottle is provided with friendly cost at our shop, furthermore certain donation to Raks Khaolak foundation is given with every purchase. And usage of Bio degradable bag for entire hotel recycle bin.

O - OUR PLACE CARE
• Monthly Beach cleaning : An idea from alertness of Hotel staff members who are educated in eco-consciousness, join us to volunteer for public beach cleaning on first Friday of each month.
• Under water artificial reef : One of a project of Ruks Khaolak foundation, which was founded by Mr. Sompong Dowpiset (La Flora Group owner). In 2018, 24 demobilized military vehicles are dropped into Andaman ocean, 3 nautical miles from Bang Niang beach as under water museum and artificial reef. Nowadays, the area becomes marine life habitat and famous diving site of Khaolak.
• Organic local spa product : While our guest indulge themselves in treatment by Spa product made by Khaolak's Local, our community economy is also growing.
• Eco-friendly cleaning product : As a part of CSR, hotel is convinced to never leave an unpleasant chemical residue which causes a negatively impact to environment.
• Maritime Emergency Case Systems (Maritime ECS) : The Floating ambulance is part of the Andaman hub medical network, supporting by Ruk Andaman Foundation (Mr. Sompong Dowpiset is a chairman). Stationing at Surin and Similan island, these 3 boats from Royal Thai Navy have achived in saving tourists from potential drowing incidents.
YOUR EXPERIENCE WITH US
WILL NOT BE ONLY MEMORABLE BUT SUSTAINABLE.